Information
1330 Travel Hotline : +82-2-1330
Tourism and Transportation Department in Boryeong City HallPerson in charge of Tourism Promotion : +82-41-930-3541~2
If you follow the path from Dongri to the southern side at the distance of 2km, you can meet big river with a lot of pebble stones, which looks like sea. The summer visitors walk on the pebble stones with the naked feet from place to place and enjoy swimming. As an old proverb says people who walks on this pebble stones will take at least ten years off their ages. Seeing the horizon, you can feel good with the sound of the sew mew. And red glow dye the sky. The visitors can see sunrise and sunset and they pledge they will visit here next again.
The white sand(3.5 kilometers long and 100 meters wide) is very large in scale. You can see the strange rocks and bizarre stones to the south of white sand, and it is a wonderful sight. The temperature of the seawater is appropriate for the swimmer and they have a good time.
Tour Info
Godaedo Dulle-gil Trail(1Km)
The Dulle-gil Trail, stretching from Godaedo Ferry Terminal to Mongdol Beach, offers picturesque scenes along the coast such as fantastic rock formations, hundreds-of-years-old pine trees, Mongdol Beach, and Seonbawi Rock.
▶ Godaedo Quay → Godaedo Church → Coastal Path → Mongdol Beach
Godaedo Quay
Godaedo Church
Coastal Path
Mongdol Beach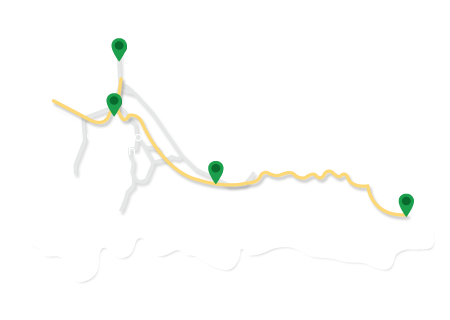 Godaedo Church
A church commemorating the efforts of Karl Gutzlaff, the first Protestant missionary to enter Korea. A small but neat chapel is located on the 1st floor. On the 2nd floor, all aspects of Karl Gutzlaff's life and history are on display.
[Korea's first Protestant missionary]

Name: Karl Gutzlaff (July 8, 1803 – August 9, 1851)
Birthplace: Pyritz, Pomerania, Germany
Motives: Boarded the Lord Amherst (the East Asia Company's merchant ship) as a doctor and interpreter
Location
Take a bus or taxi at Daecheon Station / Boryeong Bus Terminal and exit at Daecheon Port. (Bus: 40-minute ride, taxi: 20-minute ride)
Board the ferry at Daecheon Port and debark at Godaedo Island (Daecheon Port: +82-41-934-8773, 5963)
※ The ferry (between Daecheon Port and Godaedo Island) is operated three times a day.
Passenger ship regular sailing schedule
Daecheon Port ↔ Godaedo Island
the ferry Time table
-
Departure from Daecheon Port
Departure from Godaedo Island
October thru March
07:30, 12:20
15:30(Operated on October & March)
15:00(Operated on November thru February)
08:50, 13:40
16:25(Operated on October & March)
15:55(Operated on November thru February)
April thru September
07:30, 13:00, 16:00
08:45, 14:20, 16:50
Accommodations
Name,Telephone No,Location,Delicious food,Name of owner

| Name | Telephone No. | Location | Delicious food | Name of owner |
| --- | --- | --- | --- | --- |
| Bando Hasuk | +82-41-932-2540 | Beach | Pan-broiled octopus | Lee Eulsun |
| Sanjang Inn | +82-41-932-2457 | Beach | Pan-broiled octopus | Heo Kwangbun |
| Haebyeon Minbak | +82-41-932-3801 | Seaside | Pan-broiled octopus | Kim Yeongsik |
| Deungdae Minbak | +82-41-934-3297 | Beach | Pan-broiled octopus | Kim Byeongok |
| Yoonhee Minbak | +82-41-932-3881 | Beach | Pan-broiled octopus | Pyeon Yoonhee |